Cooking at Home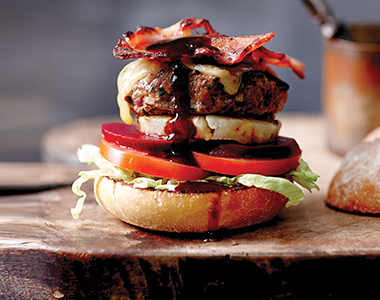 Ingredients
600g beef mince
1 onion, finely chopped
1.5 tablespoon (30mL) Kikkoman soy sauce
1 egg, beaten
Olive oil spray
4 large slices tasty cheese
4 rashers bacon, rind removed, halved
4 wholemeal rolls or hamburger buns, split and toasted**
4 tablespoons (80mL) Kikkoman teriyaki thick sauce
3 iceberg lettuce leaves, finely shredded
2 tomatoes, thinly sliced
8 slices beetroot
4 pineapple rings (optional)
Kikkoman sauce used in this recipe

Naturally Brewed Soy Sauce

Thick Teriyaki
TOTAL TIME
55mins Serves
4 Cook time
15mins Prep time
40mins
Teriyaki Beef Burger with the works
Method
Combine mince, red onion, parsley, tomato sauce, soy sauce and egg in a large bowl, using your hands to knead until fully mixed together.
Using your hands, shape the mixture into four 2cm thick round patties. Place on a plate, and cover and refrigerate for 30 minutes* for flavours to develop.
Meanwhile, pre-heat barbecue hot plate to medium, and spray with oil. Pre-heat oven to 150 degrees. Remove patties from refrigerator and cook for 3-4 minutes each side or until almost cooked through. Transfer to an oiled baking tray.
Place patties in the oven first and cook for a further 4-5 minutes before adding the cheese slices. Top each burger with the cheese slices, and bake until the cheese starts to melt.
Meanwhile, add bacon to a hot plate and cook for 2 minutes each side or until crisp and cooked to your liking.
Spread the bases of the rolls with the barbecue sauce. Top with lettuce, tomato, beetroot, pineapple rings if using, patties and bacon. Drizzle each burger with extra Kikkoman Teriyaki Thick Sauce. Cover with bun tops and serve immediately.
Key tip
Beef mixture can be prepared several hours before and refrigerated until required. Alternatively, the beef mixture can be prepared well in advance, shaped into patties then frozen. Defrost when required.
Brush buns with oil before toasting to stop sauce from soaking in.
Print this recipe