Cooking at Home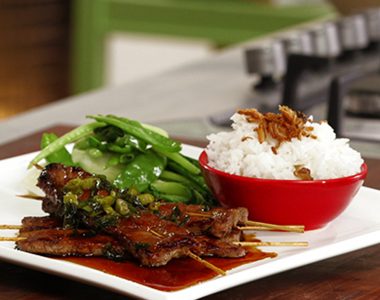 Ingredients
Skewers
200g sirloin, fat removed, in strips*
1 bottle (250mL) Kikkoman Honey and Soy Marinade and Stir Fry Sauce
1 spring onion, sliced
1 tbsp. olive oil
Greens
1 bok choy, cut in quarters
1/2 cup snow peas
1 spring onion, sliced
1 tbsp. vegetable oil
To Serve
Steamed rice
Fried shallots
Kikkoman sauce used in this recipe

Honey and Soy Marinade and Stir Fry Sauce
TOTAL TIME
4hrs 25mins Cook time
15mins Prep time
4hrs 10mins
Honey & Soy Sticky Skewers on Asian Greens
Method
Thread the beef strips onto 5 skewers.
Pour over 125mls of the Kikkoman Honey and Soy Marinade. Transfer to the fridge and marinate for at least 4 hours.
Heat olive oil in a griddle pan or Barbecue over a high flame. Cook skewers for 1 to 2 minutes on each side or until nicely browned. Remove from the pan and allow to rest.
In a wok over a high heat, add vegetable oil and Asian greens. Stir fry for 1 to 2 minutes or until wilted slightly.
For the sauce, add remaining Kikkoman Honey and Soy Marinade to a small frying pan over a low heat. Once the sauce is simmering, stir through spring onions and remove from the heat.
Pour the marinade over the skewers and serve with the stir fried Asian greens and steamed rice topped with fried shallots.
Print this recipe
See how to make this dish