Cooking at Home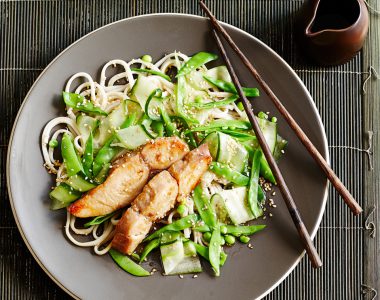 Ingredients
1 tbsp (20mL) Kikkoman Naturally Brewed Soy Sauce*
1/3 cup (80mL) mirin (Japanese rice wine)
2 tsp sugar
1/3 cup (75g) white miso paste
600g skinless kingfish fillets cut lengthways into 3cm wide strips**
1 tbsp (40mL) canola oil
Dried udon noodles
Snow Pea Salad:
200g snow peas, topped and tailed and thinly sliced on an angle
2 Lebanese cucumbers, sliced into thin ribbons with a vegetable peeler
2 tbsp (40mL) mirin
2 tbsp (40mL) rice vinegar
2 tsp Kikkoman Naturally Brewed Soy Sauce
2 tsp toasted sesame seeds
Kikkoman sauce used in this recipe

Naturally Brewed Soy Sauce
TOTAL TIME
33min Cook time
3min Prep time
30min
Miso Marinated Kingfish Fillets with Noodles & Snow Pea Salad
Method
For the fish: combine soy, mirin and sugar in a small pan and bring to the boil over medium heat. Add miso paste and whisk until smooth. Remove from heat, transfer to a flat non-metallic dish and cool completely in the refrigerator.
When cool, add the fish, making sure it's well coated with the mixture. Cover and marinate in the fridge for at least 2 hours.
Meanwhile, cook noodles according to directions on pack.
Blanch snow peas in a saucepan of simmering water for about 10 seconds. Strain and place in iced water to stop the cooking process. Strain and thinly slice on an angle.
Remove fish from refrigerator. Heat a non-stick fry pan and add the oil. Drain fish and discard marinade. Add fish to pan and cook for about 1 minute until golden. Turn and cook for another minute or until done to your liking. Do not overcook.
Meanwhile, toss the salad ingredients together in a bowl. Divide salad and noodles among individual serving plates, then top with the fish. Serve immediately.
Key tip
Mirin and miso paste are available from Asian grocers or the Asian aisle of most supermarkets.
*Variation: substitute with Kikkoman Less Salt Soy Sauce if desired.
**Variation: swordfish fillets can be substituted if desired.
Print this recipe