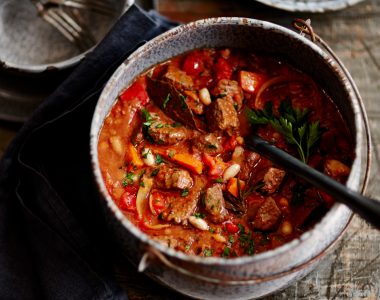 Ingredients
150mL Kikkoman Less Salt Soy Sauce
1 kg chuck steak, cut into 4 cm cubes
2 tablespoons plain flour
3 tablespoons (60mL) olive oil
4 x bacon rashers, rind removed, then cut into thin match sticks
1 onion, cut into thin wedges
3 cloves garlic, crushed
2 tablespoons tomato paste
1 x 400g can diced tomatoes
1 x 400g can cannellini beans
2 carrots, halved lengthways, then cut into quarters
1 red capsicum, diced
1 cup red wine
3 bay leaves
2 sprigs fresh rosemary or 1 teaspoon dried
3 springs fresh thyme or 1 teaspoon dried
Extra tablespoon (20mL) Kikkoman Less Salt Soy Sauce
Steamed green beans and baby new potatoes, to serve
Chopped parsley, to serve
Kikkoman sauce used in this recipe

Naturally Brewed Less Salt Soy Sauce
TOTAL TIME
7hrs Cook time
6hrs Prep time
1hr
Slow Cooker Hearty Beef & Vegetable Casserole
Method
Place steak in a flat, non-metallic dish. Pour over Less Salt Soy Sauce making sure all meat is well coated. Marinate in refrigerator for 1 hour (long for a deeper flavour).
Remove meat from marinade and pat dry with paper towels to prevent burning.
Place the flour on a flat dish and coat the beef cubes.
Preheat a large fry pan on medium/high, add the olive oil, and when hot, brown the beef on all sides. (Brown the beef in batches, so that it browns easily, otherwise it will tend to steam, not brown.)
Add into slow cooker, then add all the remaining ingredients, mixing well.
Cook on high for 4-6 hours, or low for 6-8 hours. Top with chopped parsley.
Kikkoman Naturally Brewed Soy Sauce can be substituted for Kikkoman Less Salt Soy Sauce if desired.
Key tip
Instead of usiing a slow cooker, this casserole can be cooked slowly in the oven for 3 hours at 180 deg. C
Print this recipe