Cooking at Home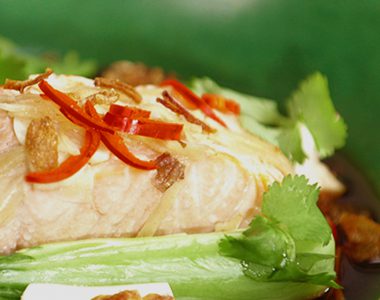 Ingredients
120g salmon steak, skin off
1 bok-choy, halved
1 tbsp. ginger, julienned
1 tbsp. garlic, sliced
1 tsp. chilli, sliced
40 mL Kikkoman Teriyaki Marinade & Stir Fry Sauce
40 mL chicken stock
Garnish
Coriander
Crispy fried shallots
Kikkoman sauce used in this recipe

Teriyaki Marinade & Stir Fry Sauce
TOTAL TIME
30min Cook time
15min Prep time
15min
Teriyaki Salmon with Bok Choy, Tofu & Shiitake Mushrooms
Method
Place a heatproof bowl in a steamer basket.
Arrange mushrooms, bok choy, garlic, ginger and chilli in the bottom on the bowl. Place salmon fillet on top.
Warm Kikkoman Teriyaki and stock in a pot over a low heat. Pour over salmon.
Cover steamer basket with a lid and steam over simmering water for six to seven minutes.
Add tofu and steam for a further minute.
To serve, sprinkle over freshly chopped coriander and crispy fried shallots.
Print this recipe