Cooking at Home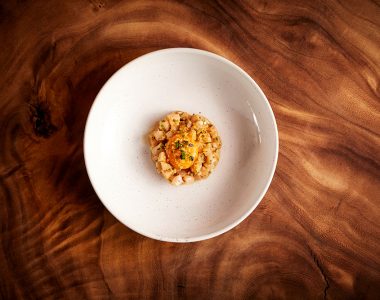 Ingredients
Kingfish salt
500g fillet of kingfish
300g rock salt
Cover with rock salt, refrigerate for 2 hours. Rinse salt off. Refrigerate for another 2 hours
Kingfish brine
4g kombu
180ml mirin
15g ginger
35g spring onion
200g lemon juice and rind
75g onion
250ml water
500ml japanese rice vinegar
Combine all ingredients and cover fillet, cover for 2 hours in fridge
Burnt chilli
100g long red chilli (burnt with blow torch)
20g pomegranate molasses
15g sherry vinegar
30g olive oil
Soy egg yolk
2 egg yolks
50g kikkoman soy sauce
Condiments
15g cucumber diced
8g burnt chilli
3g chive
5ml sesame oil
5g diced shallot
2g rock salt
Kikkoman sauce used in this recipe

Naturally Brewed Less Salt Soy Sauce
Cured kingfish tartare, Burnt chilli, sesame, Kikkoman less salt soy sauce cured egg yolk
Method
Firstly prepare your kingfish brine by adding all ingredients into a pot and bringing to the boil, leave to cool down, chill in the fridge before using
Cover your kingfish fillet in rock salt and refrigerate for 2 hours, rinse salt off under cold water and refrigerate for a further 2 hours
Cover your kingfish in the brine and leave for a furter 2 hours
Using a blow torch (or gas hob top) burn your chillies until the skin is black. Place into a bowl and cover with glad wrap, this will make the chillies easier to peel. After 10 minute scrape off all the black skin. Remove seeds, throw into a blender and add your Pomegranate molasses, sherry vinegar and oil
 Remove skin from kingfish fillet, remove blood line. Dice your kingfish to 1cm cube
Add your soy sauce to another small mixing bowl, add one whole egg yolk, leave for 20 minutes
Place 100g of your diced cured kingfish into a bowl, Add all of your condiments to a small mixing bowl, lightly mix
To plate, place a small metal ring in the center of your bowl add your mixed kingfish into the ring and gently press into the center, do not compact it in
To finish remove your egg yolk from the soy sauce (the egg yolk should be slightly firmer), place on top of your kingfish mix.
Print this recipe
See how to make this dish