Cooking at Home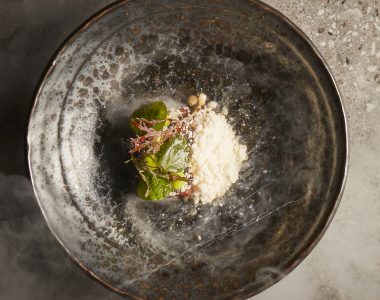 Ingredients
500g Kikkoman Soy Sauce
500g Raw Tuna (Premium Grade)
500g treacle
2 red chilli ( Sliced)
3 limes (Zest + Juice)
1 lemongrass ( Sliced)
½ bulb Ginger (sliced)
250g salt
250g sugar
100g White/ Black sesame
200g Shiso leaf
100g Edamame Beans (shelled)
100g Red elk
50g Wasabi Cress
50g Yuzu Snow
Soy Marination mix
250ml Yuzu juice
220ml water
60g Sugar
5g gelatine
Soy Treacle marinade
500g treacle
500g Kikkoman Soy Sauce
2 red chilli ( Sliced)
3 limes (Zest + Juice)
1 lemongrass ( Sliced)
½ bulb Ginger (sliced)
250g salt
250g sugar
Yuzu Snow
250ml Yuzu juice
220ml water
60g Sugar
5g gelatine
Kikkoman sauce used in this recipe

Naturally Brewed Soy Sauce
TOTAL TIME
12hrs
Soy & Sesame Tuna
Method
Put all the soy treacle ingredients in a pot and bring to simmer, cool down and pour over the raw tuna and rest for 12 hours in the fridge.
Remove from the fridge and slice into toast like pieces and plate.
Yuzu Snow
Soak gelatine in iced water. In a pot add the yuzu, water and sugar and bring to a simmer until the sugar has dissolved. Add the soaked gelatine and place the mix in a container in the freezer. Place in the mixer and blend with some nitrogen until it's a snow like consistency and place in freezer until needed. Once you've made the snow put this to one side in the freezer.
If you can not source nitrogen simply scrape the frozen Yuzu with a fork to make a granita and replace the snow.
Plating
Take the sliced tuna and dip each piece in the black & white sesame seeds and plate. On top of the tuna sprinkle edamame, red elk, shiso leaf and wasabi cress. Top with sprinkled snow or granita.
Print this recipe
See how to make this dish