Cooking at Home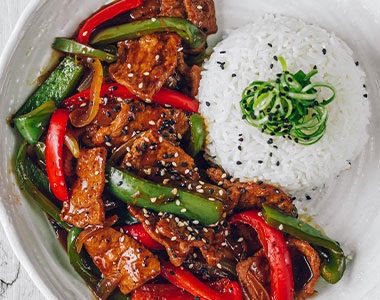 Ingredients
75g textured vegetable protein (TVP)
1/4 cup Naturally brewed Gluten Free Soy Sauce
1 packed tbsp brown sugar
1 tsp freshly cracked black pepper
3 tsp corn starch
1/2 cup water
1 brown onion, peeled and thinly sliced
1 large garlic clove, minced
1 large red capsicum, thinly sliced
1 large green capsicum, thinly sliced
Salt, to taste
Garnish:
Green onion
Sesame seeds
Kikkoman sauce used in this recipe

Naturally Brewed Gluten Free Soy Sauce
TOTAL TIME
20mins Serves
4 Cook time
10mins Prep time
10mins
Black Pepper Stir fry
Method
To prepare the TVP, put into a bowl and pour boiling water over to cover. Set aside for 5-10 minutes until reconstituted.
In the meantime, add the soy sauce, brown sugar, black pepper, corn starch and water into a bowl. Whisk well to combine.
Add a splash of oil into a frypan heat over medium high heat. Add in the onion and fry for 1 minute. Add in the garlic, red capsicum and green capsicum and fry for another minute. Add in 1/4 cup water and cook until all of the water has evaporated and capsicum has slightly softened.
Add in the TVP and prepared sauce (whisk before adding to pan) and cook for 2-3 minutes until sauce has thickened. Taste and add in some salt if necessary.
Serve with white rice. Garish with green onion and sesame seeds. Serve immediately while hot!
Print this recipe