Cooking at Home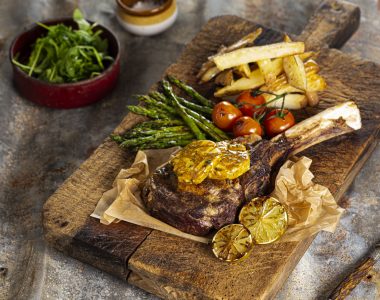 Ingredients
3 to 4 large potatoes
2 garlic cloves, thinly sliced
2 sprigs of rosemary leaves
2 tablespoons olive oil
4 x 300g beef rib-eye steaks, on the bone
20ml of Kikkoman Teriyaki Sauce
20ml of honey
250g asparagus spears
Cherry tomatoes for garnish
Half of the lime grilled in pan for garnish
Soy Butter
200g unsalted butter softened
60ml of Kikkoman Naturally Brewed Soy Sauce
1 garlic clove, roughly chopped
30 gram of pickled ginger
½ bunch of chopped chives
Kikkoman sauce used in this recipe

Teriyaki Marinade & Stir Fry Sauce

Naturally Brewed Soy Sauce
TOTAL TIME
1 hr Serves
4 Cook time
45 min Prep time
15 mins
Ribeye Steak with Soy Butter, Sticky Asparagus & Hand Cut Chips
Method
For soy butter, process butter, soy sauce, garlic, ginger and chives in a food processor until combined. Lay a 30cm square piece of plastic wrap on a bench. Spoon butter along 1 side, leaving a 2cm border. Roll into a log, twist ends to seal, then chill for 1-2 hours until firm.
Preheat oven to 180 degrees.
Slice potatoes lengthways and cut to the desired thickness,  leave skin on potatoes for a rustic appearance. Boil a small pot of water and when ready, place the chips in the boiling water and boil for one minute. Drain quickly and scatter the chips on a tray and drizzle with some oil and season with some sea salt. Place in the oven and cook chips for 35 mins or until golden crunchy.
Meanwhile, combine garlic, rosemary leaves and olive oil, salt and pepper and steak in a bowl and turn to coat well. Marinate for 30 minutes at room temperature.
Toss asparagus in Teriyaki Sauce and honey and place on a baking tray. Place in the oven for 5 mins.
Heat an oiled chargrill pan on medium-high heat. When hot, cook steaks for 4-5 minutes each side for medium-rare or until cooked to your liking. Place on a plate, loosely cover with foil and leave aside to rest in a warm place until needed.
Divide steaks across four plates, serve steak with a slice of soy butter on top of the steak to allow to melt and serve chips and sticky asparagus, garnish with cherry tomatoes and grilled lime. Serve.
Print this recipe