Cooking at Home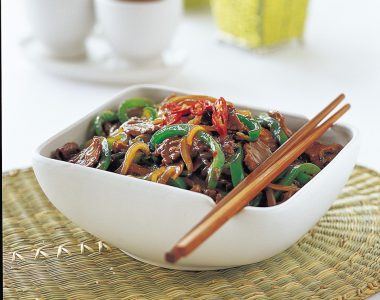 Ingredients
1 tablespoon oil
750g lamb fillet or back strap, cut into strips.
3 onions, sliced
1 green capsicum, seeded and sliced
4 green onions, sliced
2 cloves garlic, crushed
1 teaspoon grated ginger
2 teaspoons chopped chilli
1/2 cup chicken stock
1/4 cup Kikkoman Naturally Brewed Soy Sauce
2 tablespoons Oyster Sauce
2 teaspoons cornflour
Kikkoman sauce used in this recipe

Naturally Brewed Soy Sauce
TOTAL TIME
50min Cook time
25min Prep time
25min
Mongolian Lamb
Method
Heat oil in a wok or frying pan. Stir-fry lamb in batches, until browned but not cooked through. Transfer to a plate.
Add onions, capsicum, green onions, garlic, ginger and chilli. Stir-fry for 2 minutes.
Return meat to wok. Blend in combined stock, sauces and cornflour. Bring to the boil, stirring. Simmer for 3 minutes.
Serve immediately with rice or noodles.
Key tip
If desired, add noodles to wok and toss to combine before serving.
Print this recipe