Cooking at Home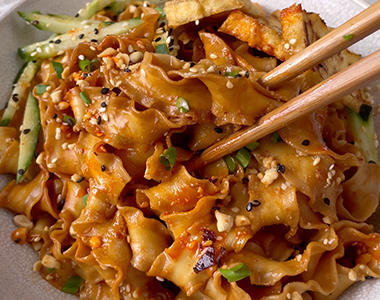 Ingredients
300g wide & flat wheat noodles
1/4 cup natural smooth peanut butter
3 tbsp Kikkoman Naturally Brewed Soy Sauce
1 tbsp Chinese black vinegar
1 packed tbsp brown sugar
1 tsp chilli flakes
1/2 tbsp chilli oil
1 tbsp sesame oil
1/4 cup hot water
Optional: Splash of dark soy (for colour)
To serve:
Pan fried tofu
Thinly sliced cucumber
Toasted sesame seeds
Roasted peanuts, chopped
Green onions
Chilli oil
Kikkoman sauce used in this recipe

Naturally Brewed Soy Sauce
TOTAL TIME
15mins Serves
4 Cook time
5mins Prep time
10mins
Spicy Peanut Noodles
Method
Cook noodles according to packet instructions. Drain, rinse well with cold water and set aside.
In the meantime, combine your peanut butter, soy sauce, vinegar, sugar, chilli flakes, chilli oil, sesame oil and hot water into a bowl. Mix well.
Add the noodles and sauce into a large bowl and mix until well coated.
Divide into portions and top with tofu, cucumber, sesame seeds, peanuts, green onions and chilli oil. Serve immediately!
Print this recipe