Cooking at Home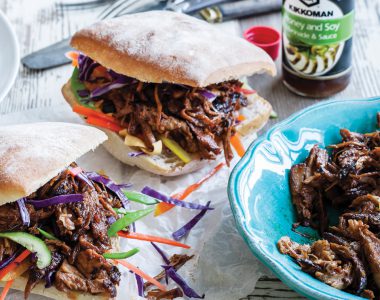 Ingredients
1 tbsp. paprika
2 tsp. smoked paprika
1 tsp. ground cumin
1 tsp. oregano
1 tbsp. olive oil
800g pork scotch fillet (pork neck)
125ml (1/2 cup) Kikkoman Honey and Soy Marinade and Sauce
60ml (1/4 cup) Kikkoman Naturally Brewed Soy Sauce
750ml (3 cups) chicken stock
1 tbsp. maple syrup
Coleslaw and bread rolls, to serve
Kikkoman sauce used in this recipe

Naturally Brewed Soy Sauce

Honey and Soy Marinade and Stir Fry Sauce
TOTAL TIME
3hrs 50min Cook time
3hrs 40min Prep time
10min
Pulled Pork
Method
Preheat oven to 160degC. Combine paprika, smoked paprika, cumin, oregano and oil in a large bowl. Add pork and turn to coat in the spice mixture.
Heat a large heatproof casserole pan over medium heat. Add pork and cook, for 5 minutes or until browned all over.
Add Kikkoman Honey and Soy Marinade, Kikkoman Soy Sauce and chicken stock, bring to the boil. Transfer pan to the oven and cook pork for 3 hours, turning occasionally or until tender.
Cool 10 minutes. Remove from pan. Reserve cooking liquid.
Place 250ml (1 cup) reserved cooking liquid and maple syrup in a small saucepan. Bring to the boil. Reduce heat to low and simmer uncovered for 3 minutes.
When pork is cool enough to handle, shred meat. Toss through reserved cooking liquid.
Serve pork with coleslaw and bread rolls. Or try with Asian slaw.
Key tip
As an alternative, you can replace the maple syrup with honey.
Print this recipe