Cooking at Home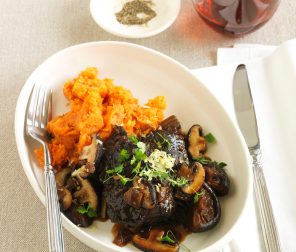 Ingredients
30ml light olive oil
4 beef cheeks, trimmed
2 each onions and celery stalks, diced
4 garlic cloves, finely chopped
200ml dry sherry
600ml beef stock (if using store-bought stock, use salt-reduced)
150ml Kikkoman Less Salt Soy Sauce*
5g dried mushrooms, soaked in warm water for 20 minutes, drained
3 thyme sprigs, plus 2 tbsp. coarsely chopped thyme
1/3 cup coarsely chopped flat-leaf parsley
Finely grated rind of 1/2 lemon
Sweet Potato Mash
800g sweet potato (about 1 large), cut into 3cm chunks
100g butter, coarsely chopped
1 tsp finely grated ginger
1 garlic clove, finely chopped
Sauteed Mushrooms
30ml light olive oil
30g butter, coarsely chopped
200g mixed mushrooms, such as Swiss brown and shitake, thickly sliced
1 garlic clove, finely chopped
Finely grated rind and juice of 1/2 lemon
Kikkoman sauce used in this recipe

Naturally Brewed Less Salt Soy Sauce
TOTAL TIME
7hrs Cook time
6hrs 30min Prep time
25min
Soy-Braised Beef Cheeks with Sweet Potato Mash
Method
Preheat oven to 150C. Heat half the oil in a large frying pan over medium-high heat, add beef cheeks and brown all over (2-3 minutes), transfer to an oven-proof casserole large enough to fit cheeks in a single layer and set aside.
Soak the dried mushrooms in warm water for approx. 20 minutes then drain.
Heat remaining oil in pan, add onion, celery and garlic and saut_ until translucent (6-8 minutes). Add sherry, simmer until reduced by half (2-3 minutes), add stock, Kikkoman Salt-Reduced Soy Sauce, dried mushrooms and thyme, season to taste, bring to the simmer and pour over beef cheeks. Cover with foil or a tight-fitting lid, then braise in oven until fork tender (5-6 hours).
Meanwhile, for sweet potato mash, combine sweet potato and enough cold water to cover generously in a large saucepan, bring to the boil and cook until tender. Drain well, transfer to a food processor, add garlic, ginger and butter and pulse to combine. Season to taste and transfer to a saucepan (warm, stirring occasionally, over medium heat just before serving).
Remove beef cheeks from cooking liquid, then bring cooking liquid to the boil over medium-high heat and simmer until reduced to a sauce consistency, then return cheeks to pan. Stir through thyme, parsley and rind just before serving (check seasoning).
For sauteed mushrooms, heat butter and oil in a large frying pan over medium-high heat until butter foams, add mushrooms and saut_ until just tender and golden (3-4 minutes). Add garlic, rind and juice, cook for another 30 seconds, season to taste. Serve with sweet potato mash, beef cheeks and sauce.
Key tip
*This can be replaced with Kikkoman Naturally Brewed Soy Sauce.
Print this recipe