Cooking at Home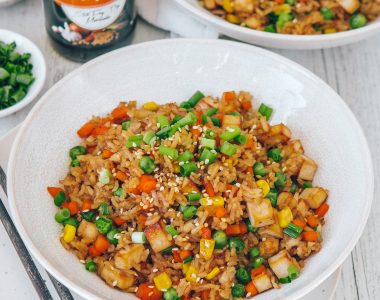 Ingredients
1 tbsp cooking oil
1 medium yellow onion, peeled and diced
2 cloves garlic, peeled and minced
1 carrot, diced
200g firm tofu, diced
1/2 cup thawed frozen peas
1/2 cup thawed frozen corn
4 cups cooked rice, cooled
2.5 tbsp Kikkoman Teriyaki Sauce
1/8 tsp ground white pepper, to taste
3 stalks green onions, finely sliced
Kikkoman sauce used in this recipe

Teriyaki Marinade & Stir Fry Sauce
TOTAL TIME
20 min Serves
3 Cook time
10min Prep time
10 min
Teriyaki Fried Rice
Looking for a quick, easy and delicious meal to make? SAVE this one because it's a must try!! My top tip for making good fried rice is to use chilled/cold day old rice! Warm fresh rice is too soft and you will end up with a clumpy, sticky mess. That being said… if you have any leftover rice sitting in your fridge, go and make this recipe ASAP.
Method
Heat the oil in a large frypan or wok over high heat. Add the onion, garlic, carrot and tofu and fry for 5 minutes or until tofu is golden and carrot has softened.
Add the peas and corn and fry for 1 minute, until heated through.
Add the rice and fry for 2 minutes, tossing well until ingredients are well-combined. Use a wooden spoon to help break up the rice, if necessary.
Season with Teriyaki Sauce and pepper and toss until all of the rice is coated. Taste and add in more sauce or a pinch of salt, if necessary. In the last 30 seconds of cooking, add the green onions and stir to combine.
Garnish with extra green onions and sesame seeds. Serve immediately while hot!
Recipe by @thrivingonplants
Print this recipe