Cooking at Home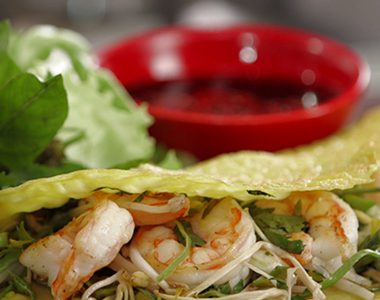 Ingredients
Batter
1 cup rice flour
1/2 tsp sugar
1/4 tsp turmeric
1 cup coconut milk
1 – 1 1/4 cups water
Dipping Sauce
3 tbsp. Kikkoman Naturally Brewed Soy Sauce
1 tbsp. fish sauce
2cm knob ginger, finely chopped
1 tbsp. sugar
1 long red chilli, finely chopped
1 clove garlic, crushed
Juice of 1 lime
Filling
12 – 16 prawns, cooked
80gms snow peas, sliced
80gms Enoki mushrooms
4 spring onions, sliced
60gms bean shoots
Juice of 1 lime
4 sprigs coriander
Garnish
Lettuce
Vietnamese mint
Coriander
Kikkoman sauce used in this recipe

Naturally Brewed Soy Sauce
TOTAL TIME
25min Cook time
5min Prep time
20min
Vietnamese Pancakes with Prawns, Ginger & Soy Dipping Sauce
Method
Combine all ingredients for the dipping sauce in a mixing bowl. Set aside.
To make the batter, combine the rice flour, sugar and turmeric in a large mixing bowl. Make a well in the centre and pour in the coconut milk and water. Whisk until smooth. Transfer mix to a cool place and rest for 1/2 hour.
Pour a spoonful of mixture into a hot frying pan over medium heat. Arrange ingredients for filling on top.
Place the lid on and cook for 1 – 2 minutes or until cooked through.
Flip over and serve with garnish and dipping sauce on the side.
Print this recipe
See how to make this dish