Cooking at Home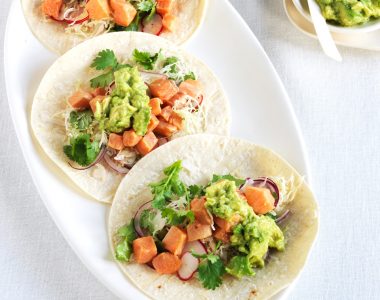 Ingredients
600g skinless ocean trout fillet, pin-boned and diced
30ml Kikkoman Naturally Brewed Soy Sauce
1/2 red birds-eye chilli, finely chopped
140ml lime juice
250g white cabbage, shaved on a mandolin*
4 radishes, thinly sliced on a mandolin*
1/4 small Spanish onion, thinly sliced
50ml extra virgin olive oil
3/4 cup coarsely chopped coriander, plus extra sprigs to serve
12 small corn tortillas
Mexican chilli sauce, to serve (optional)
Rough Guacamole
2 avocados, coarsely chopped
2 garlic cloves, finely chopped
60ml lime juice, or to taste
40ml olive oil
Kikkoman sauce used in this recipe

Naturally Brewed Soy Sauce
TOTAL TIME
30min Prep time
30mins
Ocean Trout Ceviche Tacos with Rough Guacamole
Method
To make the rough guacamole, coarsely mash avocado in a bowl with a fork, add remaining ingredients, season to taste and refrigerate until required.
Combine ocean trout, Kikkoman Soy Sauce, chilli and 100ml lime juice in a bowl, refrigerate to cure (10 minutes), then drain off most of the excess liquid and set aside.
Meanwhile, combine cabbage, radish, onion, olive oil and remaining lime juice in a bowl, season to taste and toss to combine. Just before serving toss through the coriander.
Warm tortillas according to packet instructions; fill with ocean trout ceviche, cabbage slaw, rough guacamole and coriander sprigs. Serve with chilli sauce if desired.
Key tip
If you don't have a mandolin, thinly slice.
Print this recipe