Cooking at Home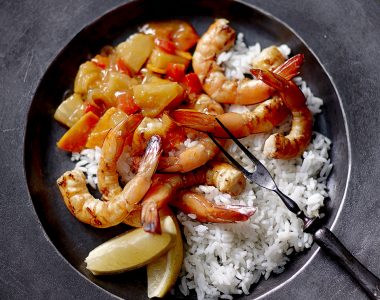 Ingredients
32 large green prawns, peeled with tails intact
1/3 cup (80mL) vegetable oil
1/4 cup Kikkoman Honey & Soy Marinade & Stir Fry Sauce
1/4 cup (60mL) lime juice
3 cloves garlic, crushed
1 teaspoon (5mL) sugar
1 teaspoon (5mL) sugar
2-3 cups of hot cooked rice, to serve
Lemon wedges, to serve
Sweet and Sour Sauce (see note)
30mL vegetable oil
1 onion, sliced
1 carrot halved, then thinly sliced
1 tablespoon (20mL) corn flour
225g can pineapple pieces in natural juice, drained (reserve 4 tablespoons of the juice)
1/4 cup (60mL) rice vinegar
2 tablespoons (40mL) ginger, grated
2 tablespoons (40mL) tomato sauce
1 tablespoon (20mL) Kikkoman Less Salt Soy Sauce
1 tablespoon (20mL) sugar
1/2 red capsicum, seeds removed, cut into 1cm cubes
1/2 green capsicum, seeds removed, cut into 1cm cubes
1/2 red chilli, thinly sliced
Kikkoman sauce used in this recipe

Naturally Brewed Less Salt Soy Sauce

Honey and Soy Marinade and Stir Fry Sauce
TOTAL TIME
40mins Cook time
10mins Prep time
30mins
Barbecue Honey Soy Prawns with Chunky Sweet & Sour Salsa
Method
For the sweet and sour sauce, heat oil in a medium saucepan. Add onion and carrot and cook over medium heat for 1-2 minutes. Take care not to brown.
Meanwhile, mix corn flour with 2 tablespoons of the reserved pineapple juice. Set aside.
Add vinegar, tomato sauce, soy sauce, ginger and sugar to the onion and carrot mixture. Bring to the boil.
Add pineapple pieces, remaining pineapple juice and the corn flour mixture. Stir until thickened.
Add capsicum and chilli and cook for a further 1-2 minutes.Set aside.
For the prawns, combine the oil, Honey & Soy Marinade, lime juice, garlic and sugar. Place prawns in a non-metallic bowl and pour over the Honey Soy mixture. Marinate for 20 minutes, covered, in refrigerator.
Meanwhile, heat a barbecue grill to medium heat. Remove prawns from marinade and pat dry with paper towels to help prevent burning. Reserve marinade.
Barbecue the prawns for 1-2 minutes each side, (depending on size) or until cooked through, basting with reserved marinade.
Serve rice onto a large plate and arrange prawns and lemon wedges on top. Serve with the sweet and sour sauce on the side.
Key tip
The sweet and sour salsa can be made the day before, stored in the refrigerator, then gently heated when needed.
Print this recipe