Cooking at Home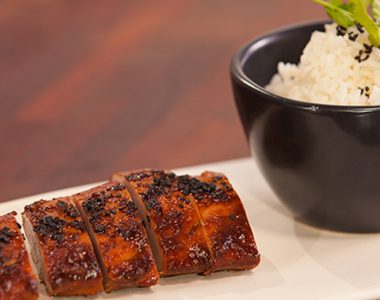 Ingredients
2 pork fillets, cut in half
70ml hoisin sauce
70ml ketchup
70ml Shaoxing rice wine vinegar
2 tbsp. Kikkoman Naturally Brewed Less Salt Soy Sauce
1 tsp. Chinese 5 Spice
1 knob ginger, finely grated
3 drops sesame oil
Kikkoman sauce used in this recipe

Naturally Brewed Less Salt Soy Sauce
TOTAL TIME
1hr 15mins Cook time
1hr Prep time
15mins
Char Sui Pork Fillet
Method
Place all the ingredients, apart from the pork into a bowl and stir to combine.
Pour a quarter of the marinade into a small pot and gently simmer for 5 minutes until slightly thicker and fragrant. Reserve.
Pour the rest of the marinade into a plastic container with the pork fillets and ensure they are evenly covered. Refrigerate overnight.
Preheat the oven to 150C.
Place pork into a baking dish and cook for 35-45 minutes in the oven. Remove from the oven and heat a BBQ or grill. Sear the meat on each side for 1-2 minutes, basting with the reserved marinade.
Allow the meat to rest briefly before slicing and serving with either plain rice or your favourite fried rice and Asian greens.
Print this recipe
See how to make this dish