Cooking at Home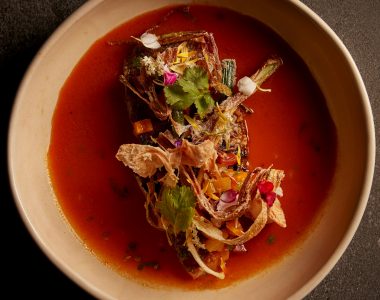 Ingredients
1 kg whole barramundi
100ml Kikkoman Naturally Brewed Soy Sauce
1tsp fennel seed
1tsp cardamon pod
1tsp cumin seeds
1tsp coriander seeds
1tsp black peppercorn
1tsp ground turmeric
1tsp ground garlic
1 fresh chilli
1 diced small brown onion
200g diced ripe tomato
200ml water
10ml vegetable oil
10 curry leaves
1 coriander bunch
1 young garlic stem
Kikkoman sauce used in this recipe

Naturally Brewed Soy Sauce
TOTAL TIME
50 mins Serves
4 - 6 Cook time
15 mins Prep time
35 mins
Charcoal Roasted Barramundi, Vadouvan, Young Garlic & Coriander
This unique, flavour packed seafood dish brings together spices and heat for an unforgettable meal.
Method
Fillet the barramundi, keep the bones and set aside for the stock reduction.
Pound and toast all the spices into a course powder in a mortar and pestle or a blender.
Fry the onion and garlic in a pan, then add the fish bones and head with the spice mix and cook until golden brown and all the flavour is released. Cover with water and bring to a simmer.
Add the diced tomato and curry leaves and simmer for a further 15 minutes and strain with a fine sieve, discarding the bones.
Add Kikkoman Soy Sauce to the fish stock sauce whilst on the heat to balance the flavour.
Gently pound the young garlic stem and deep fry until crispy and use it as a garnish when plating up.
Roast the barramundi over the charcoal on a wire rack. Once ready, serve on a plate with the sauce and garnish with coriander and edible flowers.
Print this recipe
See how to make this dish