Cooking at Home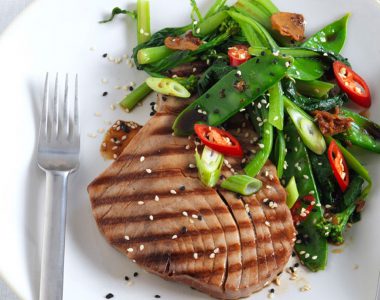 Ingredients
4 tuna steaks, (200g each)
Toasted black and white sesame seeds
Thinly sliced chilli and spring onion to serve
Tuna Marinade
2 tbsp. Kikkoman Naturally Brewed Soy Sauce
40g white sugar
25ml malt vinegar and shao xing wine
Greens with Garlic and Soy
50ml Kikkoman Naturally Brewed Soy Sauce
1 1/2 tsp. malt vinegar
1 1/2 tsp. brown sugar
1 1/2 tsp. sesame oil
1 1/2 tbsp. vegetable oil
150g snow peas, trimmed
1 bunch (about 260g) choy sum, trimmed and halved horizontally
1 bunch (about 220g) broccolini, trimmed and halved horizontally
20g ginger, thinly sliced
4 garlic cloves, crushed
Kikkoman sauce used in this recipe

Naturally Brewed Soy Sauce
TOTAL TIME
50min Cook time
25min Prep time
25min
Soy Glazed Tuna with Stir Fried Greens with Garlic & Soy
Method
For the tuna marinade, combine Kikkoman Soy Sauce, sugar, vinegar and shao xing in a small saucepan over medium heat stir to dissolve sugar and reduce over until thick (10-12 minutes). Cool then brush tuna steaks with glaze and refrigerate to marinate (2-3 hours).
Preheat a char grill over medium-high heat, cook tuna, brushing with marinade, turning once until charred and cooked to your liking (2 minutes each side for medium-rare), set aside to rest.
Meanwhile, for greens with garlic and soy, combine Kikkoman Soy Sauce, vinegar, sugar and sesame in a small bowl and set aside. Heat oil in a large wok over high heat, add ginger and garlic and stir-fry until fragrant (30 seconds).
Add greens and stir-fry until starting to colour (about 2 minutes). Add soy mixture stir fry until vegetables are coated (about 2 minutes) then add 3 tbsp. water and stir fry until bright green and cooked through (about 3 minutes).
Serve hot with tuna, scattered with sesame seeds, chilli and spring onion.
Print this recipe