Cooking at Home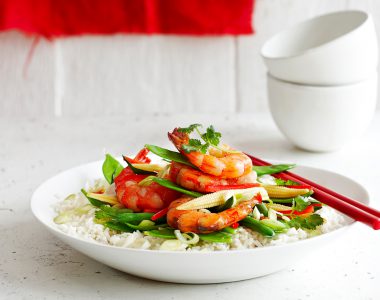 Ingredients
600g green prawns shelled and de-veined
½ tablespoon vegetable oil
150g snow peas, trimmed
1 bunch asparagus, trimmed, tough ends removed, each cut diagonally into 3 pieces
1 small red capsicum, cut into small dice
3 spring (green) onions, finely sliced diagonally
8 pieces baby sweet corn, halved lengthwise
3 cm piece fresh ginger, grated
2 garlic cloves, crushed
1 ½ tablespoons (30mL) Kikkoman Less Salt Soy Sauce*
Coriander leaves, to serve
Steamed rice, to serve
Kikkoman sauce used in this recipe

Naturally Brewed Less Salt Soy Sauce
TOTAL TIME
35min Cook time
15min Prep time
20min
Stir Fried Ginger Prawns with Asparagus and Snow Peas
Method
Heat the oil in a non-stick fry pan over medium heat. Cook the prawns, stirring, for about 3 minutes or until they change colour and are just cooked. Do not overcook. Set aside.
Blanch the snow peas and asparagus for about 30 seconds in simmering water.
Drain and set aside.
Add snow peas, asparagus, capsicum, spring onions and sweet corn to the pan and stir fry for 2 minutes or until just tender. Add ginger and garlic and cook for 1 minute,
taking care not to burn.
Return prawns to the pan with the vegetables and toss to combine. Serve immediately with steamed rice.
Key tip
Variation: 600g cooked chicken can be substituted for prawns if desired.
*Variation: Kikkoman regular Soy Sauce or Kikkoman Gluten Free Soy Sauce can be substituted if desired.
Print this recipe