Cooking at Home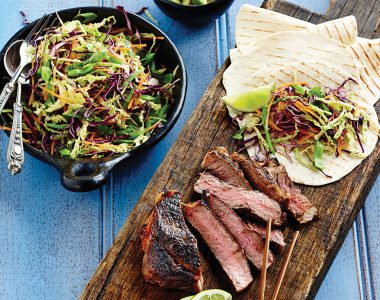 Ingredients
600gm sirloin or rump steak
125ml Kikkoman Teriyaki Marinade & Stir Fry Sauce
Asian Slaw
200gm mixed red and green cabbage, shredded
1 medium carrot, peeled and grated
3 spring onions, finely sliced
2 tbsp. fresh coriander, chopped
Dressing
1 tsp. sesame oil
2 tbsp. rice vinegar
2 tbsp. honey
2 tbsp. peanut or vegetable oil
​12 mini soft tacos
1 avocado, sliced
Lime wedges to serve
Kikkoman sauce used in this recipe

Teriyaki Marinade & Stir Fry Sauce
TOTAL TIME
40min Cook time
10min Prep time
30min
Teriyaki Tacos
Method
Place beef in a large zip lock bag. Add the marinade and seal. Leave to marinade in the refrigerator for at least 30 minutes.
Meanwhile, place all of the Asian slaw ingredients into a bowl and combine well. Make the dressing by adding the ingredients into a separate small bowl and whisk to emulsify. Set the dressing aside until ready to serve.
Heat a grill plate on medium heat. Remove beef from bag and grill until medium rare. Let meat rest for 5-7 minutes.
To serve, quickly grill each side of the tacos to warm through. Drizzle slaw with dressing and mix well. Slice beef and serve with lime wedges and fresh sliced avocado.
Print this recipe