Cooking at Home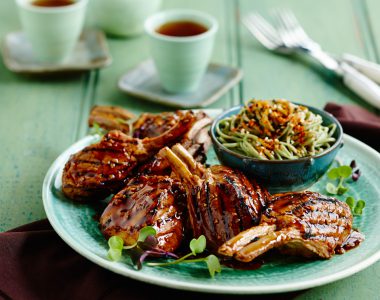 Ingredients
1kg lamb racks, sliced into 2 bone cutlets
250ml Kikkoman Honey Soy Marinade & Stir Fry Sauce
Noodles
100gm green tea noodles
1 tbsp. black sesame seeds
1 tbsp. white sesame seeds, toasted
1/2 tsp. Schichimi or chilli flakes
Dressing for Noodles
1 tbsp. peanut or vegetable oil
Juice and zest of one mandarin
1 tsp. sesame oil
1 tbsp. rice vinegar
1 tbsp. Kikkoman Naturally Brewed Soy Sauce
2cm piece of ginger, finely grated
Kikkoman sauce used in this recipe

Naturally Brewed Soy Sauce

Honey and Soy Marinade and Stir Fry Sauce
TOTAL TIME
40min Cook time
10min Prep time
30min
Soy & Garlic Marinated Lamb with Green Tea Noodles
Method
Place lamb cutlets in a large zip lock bag. Add 125ml of the marinade and seal. Leave to marinate in refrigerator for at least 30 minutes.
Meanwhile, prepare the noodles by bringing a large pan of water to a boil. Cook the noodles for 4-5 minutes or until just tender. Rinse with water and drain. Prepare the dressing by placing all of the ingredients into a small bowl and whisk to emulsify. Place noodles in a serving bowl and add the dressing. Mix well and top with sesame seeds and chilli. Set noodles aside until ready to serve.
Heat a grill plate on medium heat. Remove the cutlets from the bag and cook on each side for 3-4 minutes or until medium rare. Place the remaining 125ml of the marinade in a small pan on medium heat and reduce until thickened to a glaze consistency.
To serve place cutlets on a platter and drizzle with the glaze. Noodles can be served hot or cold. Add any favourite green vegetable and rice to complete the meal.
Key tip
Green tea noodles and Schichimi can be sourced from Asian food stores.
Print this recipe