Cooking at Home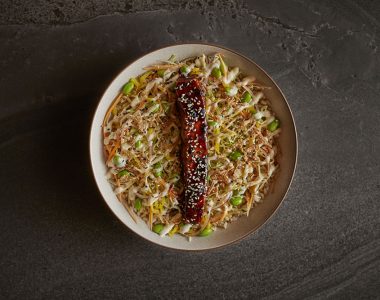 Ingredients
Ponzu Dressing
50ml Kikkoman gluten free soy sauce
50ml Rice wine vinegar
50ml Mirin
25ml Fresh lemon juice
1 Garlic clove
5ml Sesame oil
Cooked brown rice
100 gms Brown Rice
600ml Water
Sesame mayo
100ml Japanese style mayo
5ml Sesame oil
Teriyaki marinated salmon
130 gms Skinless salmon fillet
100ml Kikkoman thick teriyaki sauce
20ml Vegetable oil
Salad vegetables
50 gms Shaved green cabbage
25 gms Grated golden beetroot
15 gms Finely sliced red onion
25 gms Grated carrot
25 gms Shelled edamame beans
Kikkoman sauce used in this recipe

Naturally Brewed Gluten Free Soy Sauce

Teriyaki Marinade & Stir Fry Sauce
TOTAL TIME
27min Serves
1-2 Cook time
12mins Prep time
15mins
Teriyaki Poke Bowl Brown Rice
Method
Ponzu Dressing Method
In a large bowl fine grate the garlic, add all other ingredients to the bowl and whisk. Set aside.
Cooked brown rice method
Rinse rice under cold water to remove excess starch, place water and rice in a heavy base pot and place on the heat on a high heat.
Once the rice has come to the boil reduce to a low to medium heat and cook until tender.
Once cooked remove from heat strain any excess liquid in a colander and set aside.
Sesame mayo Method
Place mayo and sesame oil in a bowl and whisk together until combined well.
Teriyaki marinated Method
Brush the salmon on all sides with the teriyaki sauce, in a hot frying pan heat oil and place salmon in, cook on all sides for two minutes each side, once you have turned the salmon and are cooking the final side add the rest of the teriyaki sauce and reduce heat to low and baste salmon for a further minute.
Remove from heat and set aside.
To plate
Place cooked brown rice in a bowl and push towards the sides to create a well, next place shaved cabbage in the centre of plate and top with the rest of the salad ingredients.
Dress with ponzu dressing and top with sesame mayo.
Place cooked salmon on top in the centre of plate, poring the teriyaki sauce on top of salmon and finish with sesame seeds.
Print this recipe
See how to make this dish