Cooking at Home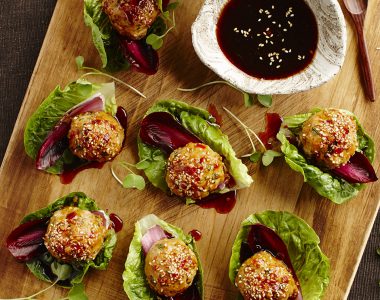 Ingredients
Meatballs
1 tbsp vegetable oil
2 spring onions, chopped finely
1 cup green cabbage, chopped finely
2 cloves garlic, crushed
600g minced pork
1 whole egg
2 tbsp Kikkoman Naturally Brewed Soy Sauce
2 tbsp chilli sauce
1 tbsp sesame oil
3 tbsp fresh coriander, chopped finely
1/4 cup panko bread crumbs
3 tbsp sesame seeds, toasted
Glazing Sauce 
50ml Kikkoman Less Salt Soy Sauce
4 tbsp sweet chilli sauce
Juice of 1 lime
1 tbsp sesame oil
1 head baby cos
1 head red witlof
Fresh greens to serve
Kikkoman sauce used in this recipe

Naturally Brewed Soy Sauce

Naturally Brewed Less Salt Soy Sauce

Panko Breadcrumbs
TOTAL TIME
30min Cook time
15min Prep time
15min
Asian Meatballs
Method
To make the meatballs place all of the ingredients (except 1 tbsp of the sesame seeds) in a large bowl. Combine well and let the mix rest for 5 minutes. Moisten hands with water and roll mix into small balls and place on a tray lined with baking paper. Top each meatball with a sprinkle of the reserved seeds. Place the tray in a pre-heated 180C oven for 10 minutes.
Meanwhile, make the glazing sauce by combining the ingredients in a small bowl and whisk until well combined.
After 10 minutes of cooking, remove the tray from the oven and drizzle a tablespoon of the dipping sauce over each meatball. Then continue cooking for a further 5 minutes or until cooked through.
To serve, cut the leaves off the top of the cos and witlof. Place the cos leaves on a serving platter and top each with a leaf of witlof, a meatball and a drizzle of sauce. Sprinkle with fresh greens and serve immediately.
Print this recipe