Cooking at Home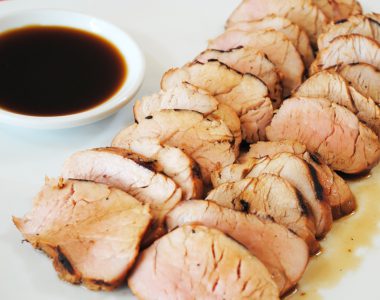 Ingredients
700g pork fillet
2 cloves garlic, crushed
1/2 cup Kikkoman Honey & Soy Marinade & Stir Fry Sauce
1/4 cup coriander leaves
1 small chilli, finely chopped
Kikkoman sauce used in this recipe

Honey and Soy Marinade and Stir Fry Sauce
TOTAL TIME
1hr 30min Cook time
20min Prep time
1hr 10min
BBQ Honey Pork Fillet
Method
Step 1.
Place pork in a large flat non-metallic dish. Combine Honey Soy Marinade and garlic and pour over pork, turning to coat. Cover and refrigerate for 1 hour to marinate. Just before cooking, pat dry with paper towels to help prevent burning.
Step 2.
Preheat barbecue grill to medium-high, and cook pork for about 7 minutes each side or until done to your liking. Set pork aside to rest for 5 minutes, then carve into slices.
Step 3.
Place on a serving platter and garnish with coriander leaves and chilli.
Print this recipe