Cooking at Home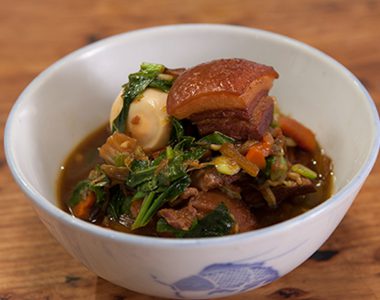 Ingredients
450g Pork Belly, sliced into 2 cm chunks
1 brown onion, sliced
1 carrot, sliced
1 stalk celery, sliced
1 bok choy, sliced
1 gai lan, sliced
1 tbsp. Kikkoman Naturally Brewed Soy Sauce
1/2 cup mirin
1 litre chicken stock
2 large knob ginger, sliced
4 spring onions, chopped
2 eggs, hard boiled
Kikkoman sauce used in this recipe

Naturally Brewed Soy Sauce
TOTAL TIME
2hrs 20min Cook time
2hrs Prep time
20min
Buta No Kakuni (Japanese Braised Pork Belly)
Method
Season pork with salt and pepper.
Heat a little oil in a frying pan. Cook pork on both sides for about 5 minutes and remove any excess oil with a paper towel once fully cooked through.
Fill a saucepan with stock. Add the cooked pork cubes with the onion, carrot, celery, mirin, soy sauce, half the ginger and spring onion.
Place over a high heat until the water boils, then decrease to a medium heat and allow it to simmer for approximately 1 1/2 to two hours or until pork is tender.
Add the bok choy, gai lan, the eggs, the remaining spring onions and ginger.
Cook until greens are cooked.
Print this recipe
See how to make this dish