Cooking at Home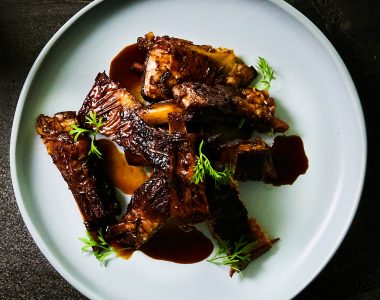 Ingredients
Masterstock
9L Litre water
375ml Chinese cooking wine
500ml Kikkoman Naturally Brewed Soy Sauce
125g rock sugar
10 eschallots
10 garlic cloves
10cm piece of ginger
1 bunch green shallots
5g liquorice root
10 star anise
2 cassia bark
5 cloves
2 pieces of Chinese cardamom
Sweet and sour sauce
500g sugar
1 cup water
150ml Chinkiang vinegar
75ml fish sauce
150ml Kikkoman Naturally Brewed Less Salt Soy sauce
2 lemongrass, sliced as thinly.
2tsp cumin powder
1 long red chilli
2 cloves of garlic
3cm piece of ginger, finely chopped
Micro coriander punnet (garnish)
Kikkoman sauce used in this recipe

Naturally Brewed Soy Sauce

Naturally Brewed Less Salt Soy Sauce
TOTAL TIME
3hrs 20min Serves
10 Cook time
2-3hrs Prep time
20min
Hot, Sweet & Sour Lamb Ribs
These slow cooked lamb ribs in a sticky, asian-inspired glaze make a delicious dinner or easy starter recipe.
The sweet and sour sauce makes these absolutely irresistible, and a sure fire hit with family and friends.
Method
Step 1
Roughly chop garlic, eschallots and ginger. Place in a stockpot, on medium heat, sauté the garlic, ginger and eschallots until golden. Deglaze with Chinese cooking wine, bring to a rapid boil and continue boiling for 3-4 minutes.
Step 2
Add water, soy sauce and rock sugar, liquorice, cassia, star anise, cloves and Chinese cardamom to the master stock. Add the roughly chopped bunch of green shallots.
Step 3
Bring to boil, then turn down to a simmer for at least half an hour to let the flavours infuse.
Step 4
Trim the excess fat from the lamb ribs and add to the master stock. Bring to a boil, then simmer until the meat is tender for 2-3 hours.
Step 5
When the ribs are cooked, lift out and place on wire racks until completely cooled. When the ribs are cool and manageable, use a knife and cut along the ribs to separate.
Step 6
Coat the ribs in the sweet and sour sauce and reheat over the grill and garnish with micro coriander leaves
Sweet and sour sauce
Step 1
Melt sugar in a large pot with a touch of water and caramelize the sugar until it reaches a light tan colour.
Step 2
Deglaze the pot with Chinkiang vinegar, soy sauce, and fish sauce.
Add chopped chilli, garlic, ginger, lemongrass and cumin. Bring to the boil, set aside.
Print this recipe
See how to make this dish