Cooking at Home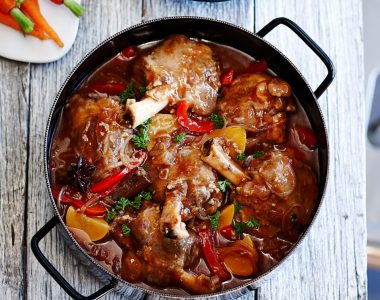 Ingredients
2 tablespoons plain flour
Ground black pepper, to taste
4 lamb shanks, frenched*
2 tablespoons (40mL) olive oil
1 large onion, finely sliced
4 garlic cloves, crushed
Pinch chilli flakes
1 red capsicum, finely sliced
6 baby yellow squash, halved
3 cups (750mL) salt reduced beef stock
2 tablespoons (40mL) red wine vinegar
3 tablespoons (60mL) Kikkoman Tamari
1 teaspoon ground black pepper
2 star anise
2 cinnamon sticks
Mashed potato, to serve
Steamed baby carrots, to serve
Kikkoman sauce used in this recipe

Tamari Soy Sauce
TOTAL TIME
1hr 50min Cook time
1hr 30min Prep time
20min
Slow Cooked Lamb Shanks with Asian Flavours
Method
Pre-heat oven to 180 deg. C.
Combine flour and black pepper and roll lamb shanks in the seasoned flour.
Heat the oil in a large non-stick fry pan over medium heat. Add the meat and brown well on all sides, taking care not to burn. Transfer to a plate and set aside.
Add the onion, garlic and chilli flakes to the pan and cook for a few minutes until the onion starts to soften. Transfer the lamb shanks, onion mixture, capsicum and squash to an oven-proof casserole dish with a lid, or to a slow cooker.
Add the stock, vinegar, Tamari Soy Sauce, pepper, star anise and cinnamon stick. Cover and place in oven for about 1 1/2 hours, or to a slow cooker on medium for 4-6 hours, until the meat is almost falling off the bone.
Serve with mashed potato and steamed baby carrots.
Key tip
*Frenched lamb shanks are shanks where the excess fat and tendons have been removed from the top of the shank. Your butcher will do this for you.
Print this recipe