Cooking at Home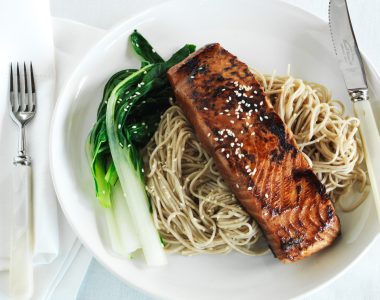 Ingredients
4 salmon fillets, boneless and skinless
250mls Kikkoman Teriyaki Marinade and Sauce
50g ginger, grated
20mLs mirin
270g soba noodles
20g sesame seeds
25mls sesame oil
1 bunch bok choy, roughly chopped
1 bunch choi sum, roughly chopped
Kikkoman sauce used in this recipe

Teriyaki Marinade & Stir Fry Sauce
TOTAL TIME
2hrs 25min Cook time
15min Prep time
2hrs 10min
Teriyaki Salmon with Soba Noodles
Method
Marinate salmon fillets in Kikkoman Teriyaki Marinade and Sauce with ginger and mirin for 2 hours.
Cook soba noodles for 4 minutes or until soft, drain and refresh. Toss with sesame oil and sesame seeds.
Heat a large fry pan and sear the salmon with 2 tablespoons of marinade mixture on each side for 4 minutes or until cooked.
Serve the salmon with soba noodles and steamed Asian greens, with a scattering of sesame seeds.
Print this recipe