Cooking at Home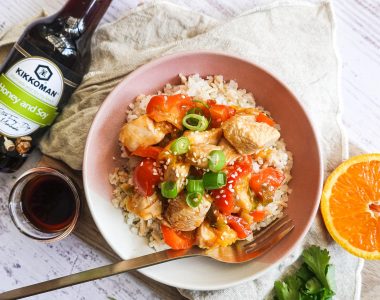 Ingredients
500g chicken breast, cut into bite-sized pieces
3 capsicums (300g approx.), diced
2-3 spring onions, chopped
1 tablespoon of minced garlic
Salt & pepper to taste
For the sauce:
2 tbs of Kikkoman Honey Soy Marinade /Stir-fry sauce
2 oranges, juiced (save the pulp!)
1 tsp of rice vinegar
1 tbs of tomato sauce
2 tbs (20g) of cornflour
To serve, I love to make a cauli-brown rice mixture as below:
150g frozen cauliflower rice (per serve)
80g basmati brown rice – cooked weight (per serve)
Kikkoman sauce used in this recipe

Honey and Soy Marinade and Stir Fry Sauce
TOTAL TIME
30 min Serves
4 Cook time
20 min Prep time
10 min
Orange Chicken
This delicious recipe is made with one of our favourite winter fruits – oranges. Using Kikkoman Honey Soy Marinade and Stir-fry sauce is a great alternative to using soy sauce and honey separately and makes this dish even simpler to prepare.
Method
Heat a non-stick pan (add a dash of avocado oil if needed). Cook the chicken for 5 minutes until brown. Remove and set aside.
Using the same pan, stir fry the capsicums and spring onions for 5 minutes until charred, add the garlic and cook for 1 minute.
Mix all the sauce ingredients then set aside.
Bring the chicken back to the pan and cook for a minute with the vegetables. Pour sauce into the pan and let it cook for 3 minutes or until the sauce has thickened and the chicken is cooked through. Stir through the orange pulp for the final 2 minutes of cooking. Season with salt and pepper to taste.
Serve with cauliflower rice on the side and enjoy! I also added a sprinkle of sesame seeds and more spring onions.
Recipe by @the_healthy_diary_
Print this recipe