Cooking at Home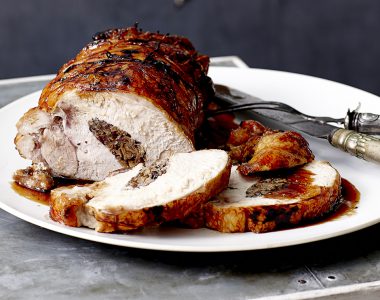 Ingredients
2 kg turkey breast roll (see note 1)
Olive oil spray
1 cup (250mL) dry white wine
Honey Soy Glaze:
1/2 cup (125mL) Kikkoman Honey & Soy Marinade & Stir Fry Sauce
2 tablespoons (40mL) Kikkoman Less Salt Soy Sauce
1 teaspoon (5mL) sesame oil
Extra Kikkoman Honey & Soy Marinade & Sauce for basting
Shiitake Mushroom & Rice Stuffing(see note 2):
2 cups cooked brown rice or SunRice Mountain Blend Rice
2 tablespoons (40mL) olive oil
1 large brown onion, finely chopped
3 cloves garlic, crushed
100g Shiitake mushrooms (or large flat mushrooms), sliced
2 star anise
2 teaspoons (10mL) Chinese 5 Spice powder
2 teaspoons (10mL) finely grated ginger
1/2 cup roughly chopped coriander leaves
Grated zest and juice of 1 lemon
2 eggs, lightly beaten
Watercress Salad:(Optional)
2 bunches watercress, tough stems removed
1/4 cup (60mL) vegetable oil
1 clove garlic, crushed
1/2 tablespoon (10mL) rice vinegar
1/2 tablespoon (10mL) Kikkoman Naturally Brewed Soy Sauce
Kikkoman sauce used in this recipe

Naturally Brewed Less Salt Soy Sauce

Naturally Brewed Soy Sauce

Honey and Soy Marinade and Stir Fry Sauce
TOTAL TIME
2hrs 10min Cook time
1.5hrs Prep time
40min
Honey Soy Glazed Turkey Breast
Method
To make stuffing, heat olive oil in a fry pan over medium heat. Add onion, garlic, mushrooms and star anise, and cook stirring occasionally for 15 minutes or until onion is soft and golden. Remove star anise and allow the mixture to cool.
In a large bowl, combine cooked rice, onion mixture and remaining stuffing ingredients. Mix well.
To make honey soy glaze, whisk all ingredients in a small bowl until combined. Set aside.
To prepare the turkey, pre-heat oven to 200deg.C. Place the turkey breast roll, skin side down on a board, with one long side facing you. Place the stuffing along the centre of the turkey, and then roll up the long side to secure the stuffing, tying with string at 3cm intervals to form a neat roll.
Place turkey breast in a large baking dish and coat both sides with olive oil spray. Place in oven and roast for 45 minutes.
Add the wine to the baking dish and cook for a further 45 minutes basting the turkey frequently with the honey soy glaze. The turkey will be cooked when juices run clear when tested with a skewer.
Set turkey aside for 15 minutes before removing string.
Reserve pan juices and if time permits, pop them into the freezer for 10 minutes and skim off excess fat. Add pan juices into a small saucepan and heat up, transfer to a small jug to serve separately.
Print this recipe