Cooking at Home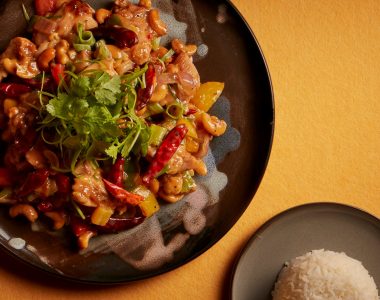 Ingredients
1kg diced chicken thigh fillet
1 litre vegetable oil
5ml sesame oil
10g cornflour
10ml Shoaxing wine
Pinch of sugar
1 red capsicum
1 yellow capsicum
1 red onion
20g dry chilli
1tsp crushed ginger
1tsp crushed garlic
100ml Kikkoman Naturally Brewed Soy Sauce
1 0g Szechuan peppercorn
100g toasted cashew nuts
1 bunch shallots
Kikkoman sauce used in this recipe

Naturally Brewed Soy Sauce
TOTAL TIME
45 mins Serves
4 - 6 Cook time
10 mins Prep time
35 mins
Chicken Kung Pao with Cashew & Steamed Jasmine Rice
This simple traditional Chinese stir fry dish gives maximum flavour with minimum fuss. It's the perfect combination of salty, sweet and spicy flavours – you'll love it!
Method
Create the marinade by mixing the soy sauce, shoaxing wine, sugar and cornflour. Cut the chicken thigh into cubes and leave to marinade for 20-30 mins.
Dice the onion and the capsicum into 2cm pieces.
Heat the vegetable oil to 180°C in a deep pan.
Carefully place the chicken thigh in heated vegetable oil and cook until golden brown. Then drain the chicken from the oil and set aside.
Using the same oil, deep fry the onions and capsicum for about 30 seconds, then strain and set aside.
Discard the oil from the wok and reheat with a dash of sesame oil and add the garlic, ginger, Szechuan peppercorns and chilli. Cook for 1 minute to release flavour, constantly tossing the ingredients.
Add the fried chicken thigh, onion and capsicum and mix together.
Serve up with a garnish of freshly sliced shallots and coriander leaves.
Print this recipe
See how to make this dish