Cooking at Home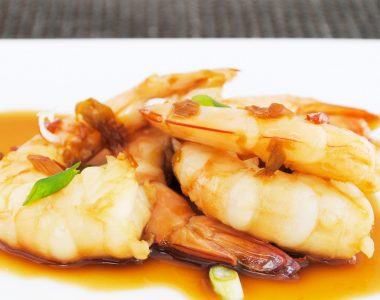 Ingredients
200g medium-sized green prawns, peeled and de-veined
2 tablespoons (40mL) vegetable oil
4 spring (green) onions, thinly sliced
1 red chilli, thinly sliced
1/4 cup (60mL) Kikkoman Teriyaki
Juice 1/2 lime
Kikkoman sauce used in this recipe

Teriyaki Marinade & Stir Fry Sauce
TOTAL TIME
20min Cook time
10min Prep time
10min
Teriyaki Prawn Stir Fry
Method
Heat a wok over medium heat and add oil.
Stir fry onions and chilli quickly for about 2 minutes. Increase heat to high. Add Teriyaki Sauce and cook for another 2 minutes or until sauce thickens slightly.
Toss in the prawns and simmer over medium heat until they turn red (about 2 minutes) or cooked to your liking. Remove from heat and stir in lime juice.
Serve with steamed rice.
Print this recipe