Cooking at Home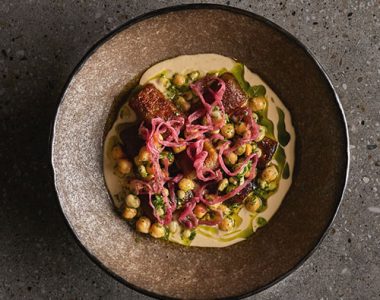 Ingredients
Falafel gnocchi 
200 g soaked chickpea (24 hrs)
200 grams soaked fava beans (24hrs)
Handful of Parsley
Handful of coriander
50g shallots
30g garlic
20g salt
600g potato cooked (dry roasted)
3g zaatar spice
Mushroom Tarator (The sauce) 
200g tahini
200ml water
150ml lemon juice
5g salt
40g mushroom powder
40ml light soy
50ml Verjus
Kikkoman sauce used in this recipe

Naturally Brewed Soy Sauce
TOTAL TIME
35mins Serves
4 - 6 Cook time
15mins Prep time
25mins
Falafel Gnocchi, Mushroom Tarator with Crumpet Spice
Method
Method Falafel gnocchi 
Soak the chickpeas and fava beans overnight.
Next day blend the chickpeas and fava beans with your herbs, shallot, garlic and salt to create your falafel base.
Then add the cooked potatoes, zaatar spice and as much flour needed to form dumplings.
Method Mushroom Tarator
Blend all the above together and cook on a gentle simmer and serve with the Falafel dumplings that have been cooked in boiling water for several minutes and pan fried to a golden brown consistency.
Garnish 
Seasonal green leaf like a broad bean leaf
Print this recipe
See how to make this dish