Cooking at Home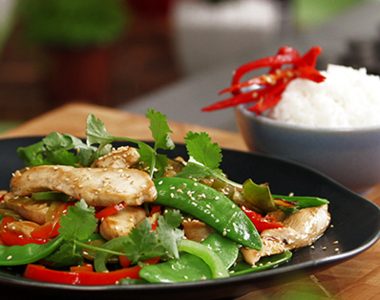 Ingredients
1 chicken breast, sliced
1 small red capsicum, sliced
1 small green capsicum, sliced
3 spring onions, sliced
1 small mild red chilli, sliced
1 cup snow peas
1/2 cup Kikkoman Sesame, Ginger and Soy Marinade and Stir Fry Sauce
1 stick celery, sliced
4 shiitake mushrooms, sliced
1 clove garlic, sliced
1 tbsp. sesame oil
2 tbsp. vegetable oil
Garnish
Toasted sesame seeds
Steamed jasmine rice
Kikkoman sauce used in this recipe

Honey and Soy Marinade and Stir Fry Sauce
TOTAL TIME
30mins Cook time
10mins Prep time
20mins
Hot Sesame Chicken Stir Fry with Sesame, Ginger & Soy
Method
Place the sliced chicken in a bowl and toss with sesame oil. Let marinade for around 20 minutes.
Heat vegetable oil in a wok over a high flame. Add the marinated chicken strips and stir fry for 2-3 minutes or until golden brown. Remove the chicken from the wok and set aside.
Add the celery and capsicum to the wok. Then the mushrooms, spring onions, chilli, garlic and snow peas. Stir fry for a minute or two.
Return chicken back to the wok and Pour in Kikkoman Sesame, Ginger and Soy Sauce. Stir fry for another 3 -4 minutes or until the vegetables soften slightly and the chicken is cooked through.
Serve with steamed jasmine rice and topped with toasted sesame seeds.
Print this recipe