Cooking at Home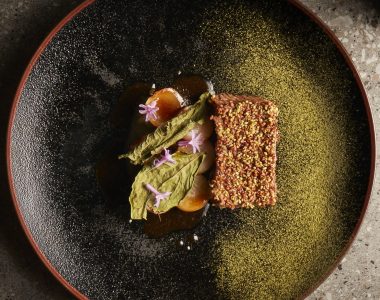 Ingredients
500g Kikkoman Soy Sauce
500g Beef Short Rib
150g Daikon Raw Strip
30g Cabbage Powder
150g Black onion puree
Purslane
Cavolo nero cabbage powder
6x Onion Petals
500g Beef Short Rib
250g honey 2 chilli's
100g ginger
2 cloves garlic
1 bunch thyme
1 white onion
1 garlic
10g charcoal powder
100g stock
50g butter
300g water
Beef stock
500g Kikkoman Soy Sauce
500g Beef Short Rib
250g honey
2 chilli's
100g ginger
2 cloves garlic
1 bunch thyme
300g water
Onion Puree
1 white onion
1 garlic
10g charcoal powder
100g stock
50g butter
Kikkoman sauce used in this recipe

Naturally Brewed Soy Sauce
TOTAL TIME
12hrs
Soy & Honey Short Rib
Method
Mix all elements except the beef in a bowl.
Once mixed and ingredients have combined together place in a container and put to one side.
In a hot frying pan with a touch of oil fry the beef rib until golden brown on all sides.
Add the beef to the mixed ingredients in deep baking tray and cover with grease proof paper and foil (Make sure the beef is covered in the liquid).
Cook at 86 c in your oven for 12 hours.
Once cooked seperate the sauce and reduce slightly to a thicken for your stock to make a gravy.
Onion Puree
In a pot melt the butter and add the sliced onion & garlic. Fry down for 4-5 mins on a low heat. Add the stock and reduce for 2-3 mins. Add to a blender and blend with the charcoal powder, stain to remove and bits and season.
Plating
Place the beef short rib on the left side of your plate. On the right side add a dollop of onion puree. On top of the beef place daikon, cabbage and onion petals. Garnish with purslane and dust with cavolo nero cabbage powder.
Finish with a few drops of the beef stock.
Print this recipe
See how to make this dish