Cooking at Home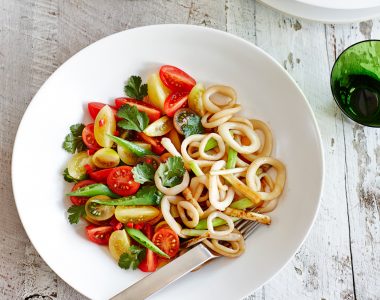 Ingredients
2 tablespoons (40mL) Kikkoman Teriyaki Marinade & Sauce
2 tablespoons (20mL) fish sauce
1 tablespoon (40mL) rice vinegar
3 tablespoons (60mL) fresh lime juice
1 tablespoon sugar
1/2 tablespoon (10mL) vegetable oil
200g snow peas, trimmed, and julienned lengthwise on the diagonal
100g red or yellow cherry tomatoes, halved
1 long, mild red chilli, thinly sliced
1 cup coriander leaves
1 red capsicum, thinly sliced
Extra 1 tablespoon (20mL) vegetable oil
Extra 1 tablespoon (20mL) Teriyaki Marinade & Sauce
400g fresh or frozen calamari rings (not crumbed)
6 spring (green) onions, cut into 5cm lengths
Kikkoman sauce used in this recipe

Teriyaki Marinade & Stir Fry Sauce
TOTAL TIME
17mins Cook time
2mins Prep time
15mins
Teriyaki Calamari Stir Fry with Snow Pea Salad
Method
To make the sauce, place Teriyaki Marinade, fish sauce, rice vinegar, lime juice, sugar and vegetable oil in a small jar with lid and shake well to combine.
Blanch the snow peas in gently simmering water for about 30 seconds. Drain and plunge into cold water to stop the cooking process. Drain well.
Toss the snow peas, cherry tomatoes, chilli, coriander and capsicum with half the sauce, reserving the other half.
Heat the extra oil and Teriyaki Marinade in a large wok over high heat and stir fry the calamari and spring onions for 2 minutes or until calamari is just cooked. Do not overcook as it will become tough.
Add remaining sauce and toss through calamari. Serve in individual serving bowls with the salad.
Variation: substitute Kikkoman Sweet Soy Sauce if desired.
Variation: use frozen Salt & Pepper Calamari rings if desired, following cooking instructions on pack.
Key tip
Substitute stir fry beef strips if desired, but increase cooking time to 3 minutes.
Print this recipe