Cooking at Home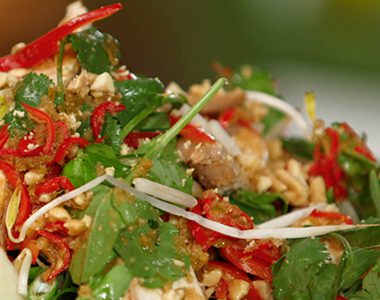 Ingredients
Poached Chicken
2 chicken breasts
2 garlic cloves
2 shallots, quartered
1 bay leaf
1/4 cup Kikkoman Naturally Brewed Soy Sauce
Salad
1 green papaya, peeled and sliced
2 spring onions, sliced
1/2 cup bean shoots
1/4 red capsicum, sliced
1 cup snow pea shoots
100gm green beans, blanched, chopped
1/4 cup coriander, chopped
1/4 cup Vietnamese mint, chopped
1/4 cup crushed peanuts
Dressing
1 garlic clove, grated
1 knob ginger, grated
1/2 lime, zest and juice
1 long red chilli, sliced
1 tsp. fish sauce
1 tsp. sesame oil
1 tbsp. sugar
1 tbsp. white vinegar
1 tbsp. Kikkoman Naturally Brewed Soy Sauce
Kikkoman sauce used in this recipe

Naturally Brewed Soy Sauce
TOTAL TIME
45min Cook time
20min Prep time
25min
Chicken & Green Papaya Salad
Method
To poach the chicken, bring a deep frying pan of water to the boil. Add the garlic, shallots, bay leaf and soy sauce and then the chicken breasts. Cover with the lid, reduce heat and simmer for 10 minutes. Remove the pan from the heat and let the chicken breasts completely cool in the poaching liquor.
Meanwhile, combine ingredients for the dressing in a small bowl and set aside.
To assemble the salad, add all remaining ingredients to a large salad bowl. Slice the cooled poached chicken and arrange on top. Drizzle over dressing just before serving.
Print this recipe
See how to make this dish