Cooking at Home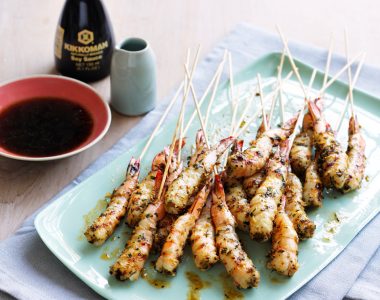 Ingredients
1 stalk lemongrass, white part only, roughly chopped
2 kaffir lime leaves, thinly sliced
1 long red chilli, chopped
2 garlic cloves, chopped
2cm piece ginger, peeled, chopped
1/2 bunch mint leaves roughly chopped
80mL (1/3 cup) olive oil
1 tsp sesame oil
1 tbsp. Kikkoman Naturally Brewed Soy Sauce
20 large green prawns, peeled and cleaned, leaving tails intact
20 wooden skewers
Sweet Soy Dressing
2 tbs mirin
2 tbs Kikkoman Naturally Brewed Soy Sauce
2 tsp brown sugar
1 tsp sesame oil
Kikkoman sauce used in this recipe

Naturally Brewed Soy Sauce
TOTAL TIME
1hr 5mins Cook time
10mins Prep time
55mins
Soy & Lemongrass Skewers
Method
Process lemongrass, kaffir lime leaves, chilli, garlic, ginger, mint, oils and soy sauce in a food processor until finely chopped.
Carefully thread prawns, tail-end first, onto skewers. Place in a zip-lock bag with lemongrass mixture and refrigerate for 30 minutes to marinate.
Meanwhile, to make dressing, whisk together mirin, soy sauce, sugar and oil in a bowl.
Preheat a barbecue or a chargrill pan over high heat. Cook prawns, turning occasionally, for 4 minutes or until just cooked.
Serve immediately with dressing.
Print this recipe