Cooking at Home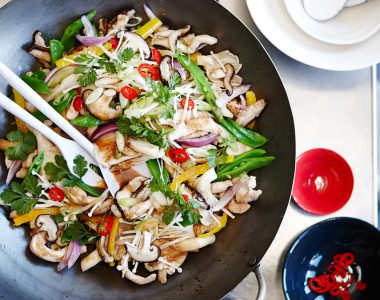 Ingredients
600g chicken stir fry strips
3/4 cup (185mL) Chinese cooking wine or dry white wine
1 teaspoon sesame oil
3 tablespoons (60mL) Kikkoman Teriyaki Marinade & Sauce
3 tablespoons (60mL) vegetable oil
3 garlic cloves, crushed
3cm (15g) fresh ginger, finely grated
1 red onion, cut into thin wedges
1 yellow capsicum, seeded and cut into thin slices lengthways
350g mixed mushrooms, such as shiitake, Swiss browns, shimeji, button or oyster
200g snow peas, trimmed and halved lengthways)
Spring (green) onions, thinly sliced, to serve
Coriander leaves, sliced chilli and steamed rice, to serve
Kikkoman sauce used in this recipe

Teriyaki Marinade & Stir Fry Sauce
TOTAL TIME
20min Cook time
5min Prep time
15min
Teriyaki Chicken Stir Fry with Mixed Mushrooms & Snow Peas
Method
Place chicken, cooking wine or white wine, sesame oil and Teriyaki Marinade in a bowl, mix well and set aside.
Heat the vegetable oil in a wok over medium high heat. Add garlic and ginger and stir fry for about 10 seconds, taking care not to burn.
Add red onion and capsicum and stir fry for about 1 minute. Add mushrooms and cook until just tender. Transfer mushroom mixture to a plate.
Drain chicken (reserve marinade) and stir fry with the snow peas for about 1 minute or until chicken is cooked.
Return the mushroom mixture to the wok with the reserved marinade, and toss to combine, making sure all ingredients are well coated with the marinade.
Serve in individual bowls, scattered with spring onion, sliced chilli and coriander leaves. Serve rice separately.
Key tip
Variation: substitute Kikkoman Honey & Soy Marinade & Sauce if desired
Variation: substitute pork stir fry strips if desired.
Tip: It's important not to over-cook the vegetables. They should be tender, but still crisp. This adds texture as well as colour to the dish.
Print this recipe