Cooking at Home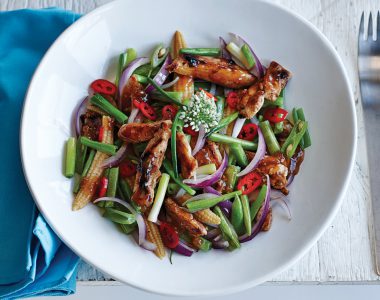 Ingredients
800g chicken stir fry strips
4 tbsp. Kikkoman Soy Sauce
2 cloves garlic minced
1 tbsp. rice wine vinegar
1 tsp. finely grated fresh ginger
1/2 tsp. Chinese five spice powder
2 tbsp. (40ml) vegetable oil
1 bunch spring (green) onions, trimmed, cut into 3cm pieces
200g French beans, halved lengthways, then cut into 3 pieces crossways
1 small red onion, cut into thin wedges
1 cup whole baby sweet corn
1/2 cup (125ml) salt reduced beef stock
2 extra tablespoons (40ml) Kikkoman Soy Sauce
1 extra clove garlic minced
1 tsp. sesame oil
1 tsp. cornflour
Water
Sliced mild red chilli, to serve (optional)
Toasted sesame seeds, to serve
Steamed jasmine rice, to serve
Kikkoman sauce used in this recipe

Naturally Brewed Soy Sauce
TOTAL TIME
40min Cook time
20min Prep time
20min
Sesame Chicken Stir Fry with Chinese Five Spice
Method
Combine Kikkoman Soy Sauce, minced garlic, rice vinegar, ginger and Chinese five spice in a large bowl and stir until mixed well. Add the chicken and stir until fully coated. Cover and refrigerate for 20 minutes. (For a deeper flavour marinate for approx. 2 hrs.).
Meanwhile, prepare the sweet corn, spring onions, French beans and onion.
Heat the oil in a wok over high heat. Add chicken mixture and stir fry in batches for about 3 minutes or until brown, taking care not to burn. Transfer each batch to a plate and cover with foil to keep warm.
Add spring onion, beans, red onion and corn to wok and stir fry for about 2 minutes or until onion is soft, but still tender. Add chicken, stock, extra Kikkoman Soy Sauce, garlic minced and sesame oil. Bring to the boil.
Combine cornflour and a little cold water in a small bowl. Mix well. Add to the stir fry mixture and cook, uncovered, stirring occasionally for 3 minutes or until sauce thickens slightly.
Place in individual serving bowls and sprinkle with chilli and sesame seeds. Serve with steamed jasmine rice.
Print this recipe