Cooking at Home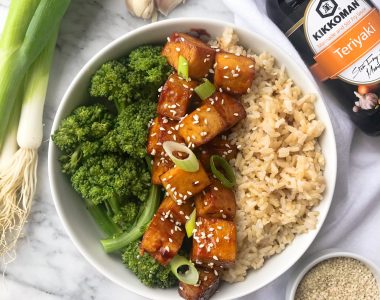 Ingredients
Kikkoman Teriyaki Sauce
1 ½  cups Brown rice
1 block firm tofu
1 TS Garlic powder
1 TS Siracha Hot Sauce
1 ½ TBS Corn Starch or Tapioca Flour
Sesame Seeds (optional garnish)
Spring Onion (optional garnish)
2 Bunches Broccolini
Extra virgin olive oil
Kikkoman sauce used in this recipe

Teriyaki Marinade & Stir Fry Sauce
TOTAL TIME
30min Serves
4 Cook time
20min Prep time
10min
Teriyaki Tofu Stirfry
Double Glazed Teriyaki Tofu! If you're new to Tofu, this is a nice and easy recipe to try.
Method
Cut 1 block of firm tofu into evenly sized cubes then cover with a tea towel and stack with a heavy pan/pot to press out as much water as possible.
While tofu is pressing, mix together 1/3 cup @kikkomanaustralia Teriyaki Sauce, 1/2 TS garlic powder, 1 TBS olive oil and salt.
Into a mixing bowl add the tofu and the sauce mixture. The tofu should be lightly coated. Then sprinkle with about 1 TBS of corn starch or tapioca flour (this will help the tofu go crisp on the outside!)
Place the tofu onto a baking dish and put into the oven on 220 for about 15 minutes. Be sure to turn it a couple of times to avoid it sticking to the pan, otherwise baking paper will work too.
While tofu is cooking, in a bowl mix 2 TBS @kikkomanaustralia teriyaki sauce and 1 TS Siracha (If you don't like spicy, just add less), and 1/2 TS corn starch or tapioca flour. Stir until combined and tapioca flour is mixed through evenly.
Once tofu is cooked and crispy, add it to a fry pan and coat with the new sauce mixture. On low heat stir through for a couple of minutes until tofu is coated and sauce has become thick/sticky.
Serve with brown rice and steamed broccolini or any vegetables that you like!
Recipe by @erinkitty_
Print this recipe