Cooking at Home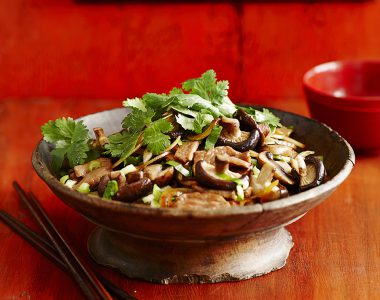 Ingredients
350g pork stir fry strips
1/4 cup (60mL) Kikkoman Teriyaki Marinade & Stir Fry Sauce
1 1/2 tbsp vegetable oil
1 large onion, sliced
2 garlic cloves, crushed
2cm piece of ginger, finely grated
400g mixed mushrooms (shiitake, oyster and Swiss brown), sliced
2 bok choy, sliced crossways
1/3 cup (80mL) Kikkoman Teriyaki Marinade & Stir Fry Sauce
Coriander leaves, to garnish
Large red chilli, seeds removed and finely sliced, to garnish
Cooked jasmine rice, to serve
Kikkoman sauce used in this recipe

Naturally Brewed Soy Sauce

Teriyaki Marinade & Stir Fry Sauce
TOTAL TIME
22min Cook time
7min Prep time
15min
Teriyaki Pork & Mushroom Stir Fry
Method
Place pork in a flat non-metallic dish. Pour over Teriyaki Marinade, cover, and refrigerate for 20-30 minutes, or longer for a deeper flavour. Remove meat from fridge and discard the marinade.
Heat 2 teaspoons of the oil in a non-stick wok over medium/high heat. Add pork to wok and stir fry for about 2 minutes, or until browned. Remove pork and set aside.
Add remaining oil to the wok and stir fry the onion, garlic and ginger for about 1 minute. Add the mushrooms and a dash of water and stir fry for 2 minutes until mushrooms are golden and starting to soften.
Stir in the cooked pork, bok choy, Kikkoman Teriyaki Sauce and 3 tablespoons water and cook for 1 minute until bok choy is tender, but still crunchy.
Place 1/4 of the rice in each of 4 individual serving bowls. Top with the pork stir fry mixture. Garnish with coriander leaves and chilli if using.
Print this recipe