Cooking at Home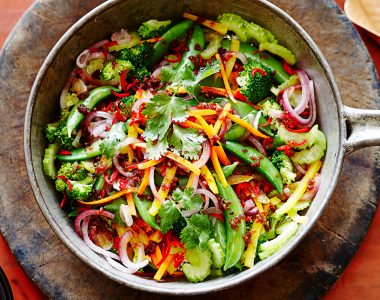 Ingredients
1 1/2 tablespoons (30mL) vegetable oil
2 garlic cloves, thinly sliced
4 spring (green) onions, cut into 3cm lengths
2 bunches broccolini, stems trimmed, halved lengthways
200g snow peas, trimmed
4 small zucchini, sliced
1/3 cup (80mL) Kikkoman Naturally Brewed Soy Sauce
1/3 cup coriander, roughly chopped
Kikkoman sauce used in this recipe

Naturally Brewed Soy Sauce
TOTAL TIME
35mins Cook time
10mins Prep time
25mins
Vegetable Medley Stir Fry
Method
Heat the oil in a non-stick wok over high heat.
Stir fry the garlic and spring onion for 30 seconds, taking care not to burn. Add the broccolini, snow peas and zucchini and stir fry for 1 minute.
Add 1/4 cup (60mL) warm water and stir fry for a further 2 minutes until vegetables are bright green and almost tender. Do not overcook.
Add the soy sauce and coriander, then stir fry for 30 seconds or until heated through.
Serve immediately.
Print this recipe