Cooking at Home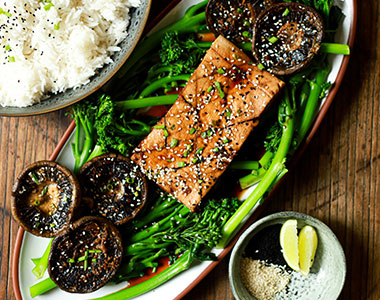 Ingredients
Main Ingredients
Marinade
1 cup Kikkoman Naturally Brewed Soy Sauce
1 cup maple syrup
1 tsp garlic powder
1 tsp ginger powder
Mushrooms
6 large field mushrooms
6 tbsp Kikkoman Naturally Brewed Soy sauce
6 tbsp olive oil
2 tsp garlic powder (or granules)
1 tsp ginger powder
Coconut Rice
2 cups basmati rice
1 cup coconut cream
2-3 pandan leaves
4 cups water
Sides and garnish's
2 bunches of broccolini (or Bok Choy and any other Asian green)
Nigella seeds
Chives
Sesame seeds
Lime
Kikkoman sauce used in this recipe

Naturally Brewed Soy Sauce
TOTAL TIME
35mins Serves
4 Cook time
20mins Prep time
15mins
Soy and Maple Marinated Tofu
Method
Empty the tofu out of the wrapper and drain off any liquid.
Slice criss-crosses into the block of tofu on every side.
In a medium sized frying pan, whisk together the marinade ingredients.
Place the tofu into the frying pan and rub and pour the marinade over each side of the tofu, then set aside.
Every few hours or whenever you think of it through the day, turn the tofu over.
When you are getting ready to assemble, put the mushrooms on a baking tray and remove the stalks.
Drizzle over 1 tbsp of the soy sauce and olive oil onto each mushroom, followed by a good pinch each of the garlic and ginger powders
Bake at 185 degrees for 25 minutes.
Strain the rice under cold water to remove excess starch, then add it to a saucepan along with the pandan leaves, coconut cream and water and boil it until just cooked.
When the rice is on its way, blanch the greens and place the frying pan with tofu in it over a medium heat.
When the sauce is bubbling start to baste each side of the tofu a couple of times
When the sauce is reduced by half assemble first by serving up the coconut rice (remove the pandan leaves).
Now lay your lightly blanched greens on the serving dish, followed by the tofu steak and the mushrooms.
Whatever sauce is left in the pan, pour that over the tofu and veg. If the sauce has firmed up, just add a splash of water, and pop it back on the heat for another 1-2 minutes until it bubbles, then pour it over.
Finish with a sprinkle of nigella seeds, cloves and sesame seeds and a wedge of lime.
Print this recipe