Cooking at Home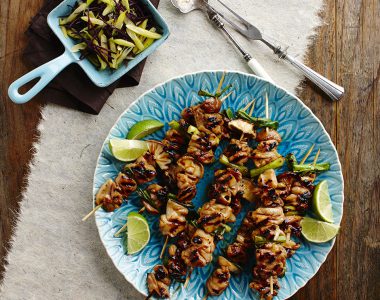 Ingredients
Chicken and Marinade
800g chicken thighs, trimmed and cut into small cubes
50ml Kikkoman Naturally Brewed Soy Sauce
50ml Kikkoman Honey & Soy Marinade & Stir Fry Sauce
2tbsp mirin
Skewers
4 spring onions, cut into 4cm lengths
100g shiitake mushrooms, stems trimmed and cut in half
12 bamboo skewers, soaked in water for at least 20 minutes
Spray oil for grilling
2 limes, cut in wedges to serve
Kikkoman sauce used in this recipe

Naturally Brewed Soy Sauce

Honey and Soy Marinade and Stir Fry Sauce
TOTAL TIME
30min Cook time
10min Prep time
20min
Chicken Yakitori Skewers
Method
Place chicken, soy sauce, marinade & stir fry sauce and mirin in a large zip lock bag. Seal and leave to marinate in the refrigerator for at least 20 minutes.
To assemble the skewers, thread the chicken, mushrooms and spring onions onto the soaked skewers, alternating ingredients.
Heat a grill plate on medium heat. Spray skewers with the oil and grill for 3-4 minutes on each side or until the chicken has cooked through.
To serve place skewers and limes on a serving platter.
Print this recipe