Cooking at Home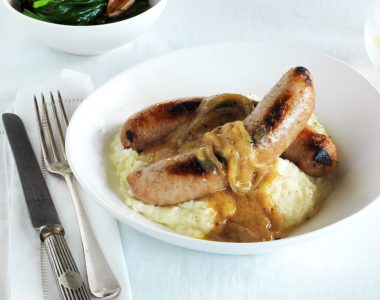 Ingredients
8 thick pork sausages
50mls extra virgin olive oil
2 bunches English spinach, washed and trimmed
2 garlic cloves, thinly sliced
20ml Kikkoman Naturally Brewed Soy Sauce
Creamy Mashed Potato
1kg Sebago potatoes, roughly diced
125mls milk, heated
75g butter, cut into cubes
Onion Gravy
45mls olive oil
25g salted butter, roughly diced
30g brown onion, finely sliced
80ml Kikkoman Naturally Brewed Soy Sauce
250ml chicken stock
10g hot English mustard
60mls cup white wine
65g cup plain flour, sifted
Kikkoman sauce used in this recipe

Naturally Brewed Soy Sauce
TOTAL TIME
1hr Cook time
40min Prep time
20min
Bangers and Mash with Caramelised Onion Gravy
Method
Prepare the mashed potato with butter and hot milk and beat until fluffy. Season with salt and pepper.
Cook onions in olive oil for 10 minutes or until soft and golden. Add Kikkoman Soy Sauce and continue cooking until caramelized. Add flour to form a roux base then gradually add chicken stock, mustard and wine to thicken.
Brush sausages with oil and grill.
Heat extra virgin olive oil over medium/high heat and saut_ spinach with thinly sliced garlic and Kikkoman Soy Sauce until soft.
Serve sausages with mash, saut_ed spinach and top with onion gravy.
Print this recipe