Cooking at Home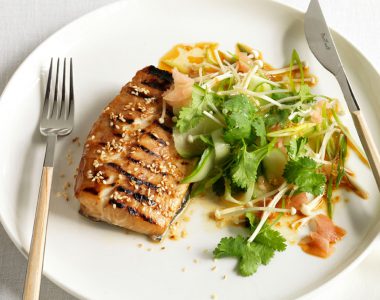 Ingredients
4 kingfish fillets (190g each)
60ml (1/4 cup) Kikkoman Teriyaki Sauce
3 Lebanese cucumbers, seeds removed, sliced into ribbons
80g enoki mushrooms, trimmed
3 spring onions, thinly sliced
1 punnet baby shiso, trimmed (optional)
1 cup coriander (loosely packed), coarsely torn
2 tbsp pickled ginger, thinly sliced
Toasted sesame seeds, to serve
Sesame and Soy Dressing
60ml (1/4 cup) Kikkoman Naturally Brewed Soy Sauce
10ml each mirin and rice wine vinegar
5g (1cm piece) ginger, finely grated
10ml sesame oil
20ml ground nut oily
Pinch of caster sugar
Kikkoman sauce used in this recipe

Naturally Brewed Soy Sauce

Teriyaki Marinade & Stir Fry Sauce
TOTAL TIME
40min Cook time
10min Prep time
30min
Teriyaki Roast Kingfish with Cucumber & Enoki Japanese Salad
Method
Brush kingfish with Kikkoman Teriyaki Sauce, place in a non-reactive container and refrigerate for flavours to develop (5 hours overnight).
For the sesame and soy dressing, whisk together ingredients in a small bowl and set aside.
Preheat oven to 180C. Preheat a char-grill (BBQ) over medium-high heat, drizzle kingfish with oil and grill, brushing with marinade, turning once until charred (1-2 minutes each side). Transfer to a tray lined with baking paper and roast until just cooked through (8-10 minutes).
Combine cucumber, enoki, spring onion, baby shiso, coriander and pickled ginger in a bowl, drizzle over three-quarters of the dressing and toss to combine. Serve with teriyaki kingfish with extra dressing drizzled over if desired and scattered with sesame seeds.
Print this recipe