Cooking at Home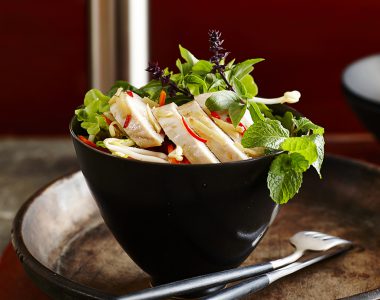 Ingredients
4 x 125g chicken breast fillets
4cm piece fresh ginger, cut into thin strips
1 long red chilli, seeds removed and thinly sliced
4 tbsp (80mL) Kikkoman Sweet Soy Sauce
4 tbsp (80mL) rice vinegar
1 tsp sesame oil
Butter lettuce salad
1 butter lettuce, leaves separated
1 carrot, julienned
2 cups bean sprouts, roots removed
Mint, coriander and Thai basil leaves, to serve
Soy ginger dressing
1 tbsp (20mL) vegetable oil
1/2 tbsp (10mL) rice vinegar
1 tsp Kikkoman Naturally Brewed Soy Sauce
1/2 tsp grated ginger
Kikkoman sauce used in this recipe

Naturally Brewed Soy Sauce
TOTAL TIME
55min Cook time
35min Prep time
20min
Asian-Flavoured Chicken Parcels with Butter Lettuce Salad
Method
Preheat oven to 190 deg. C. Cut three slashes halfway through each chicken breast. Cut 4 x 30cm lengths of foil, and place one fillet in the centre of each. Top each one with the ginger and chilli.
Combine the Sweet Soy Sauce, rice wine and sesame oil in a small bowl, then spoon equal amounts over each chicken breast.
Fold in the long sides and both ends of the foil to form a parcel and seal well.
Place parcels on a baking tray and cook for 35 minutes or until chicken is cooked through. Set aside in the foil for 10 minutes, reserving any sauce left in the parcels. Slice chicken crossways into thick pieces.
Combine lettuce, bean sprouts and herbs in a bowl. Mix gently, then place equal amounts in individual serving bowls and top with chicken slices. Drizzle with remaining sauce from the parcels.
Print this recipe